Discover more from Yashar Ali | The Reset
Over 52,000 subscribers
16-year-old Iranian Girl Dead After Violent Morality Police Arrest.
Armita Garavand joins a long list of other young Iranians who have been murdered by the Islamic Republic simply for attempting to live freely.
Armita Garavand, the 16-year-old Iranian girl who was violently arrested and assaulted by the Islamic Republic's morality police earlier this month, has died after spending nearly a month in a coma. Armita's death was first reported by Islamic Republic state media and confirmed by Hengaw, the human rights organization.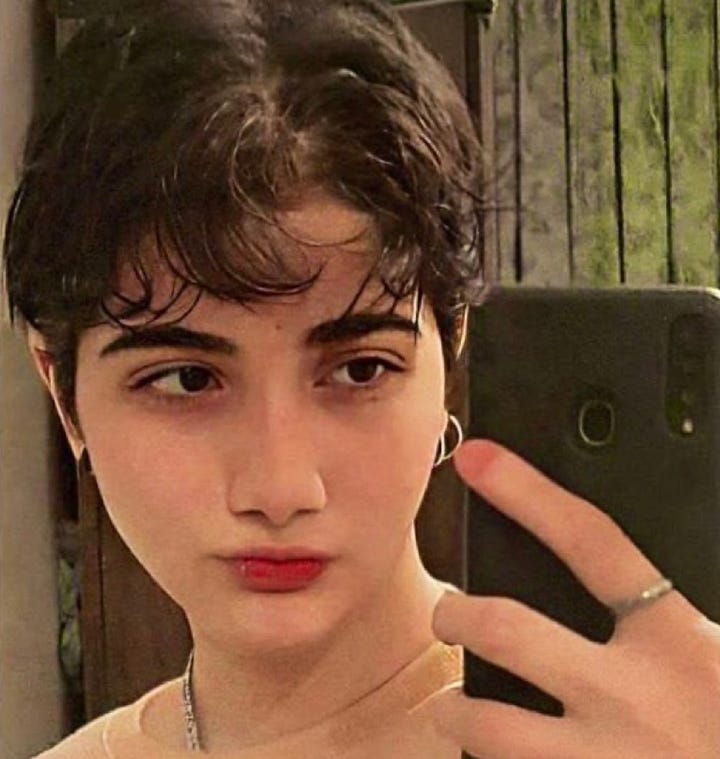 On October 1, Armita and her friends boarded a train on their way to school. Armita was not wearing a headscarf, which is required by law in Iran.
According to people who witnessed the encounter and spoke to the Amsterdam-based Radio Zamaneh, Armita argued with the morality police on the train when they began harassing her for not wearing a headscarf.
One officer then pushed Armita; she fell and hit her head on a metal object, suffering a cerebral hemorrhage.
Heavily-edited security footage released by the government shows Armita boarding the train with her friends and then being dragged off after reportedly hitting her head from being pushed.
The Islamic Republic refuses to release footage from inside the train, even claiming that the train had no cameras (this is a lie).
The Islamic Republic almost always lies about the circumstances surrounding these incidents, and this case was no exception. According to the Islamic Republic, Armita collapsed because her blood sugar had dropped from not eating breakfast.
An outrageous lie.
The government only confirmed its duplicity when it took Armita to an Islamic Republic Air Force hospital for treatment.
There, Armita was guarded 24/7 by Islamic Republic security agents.
If she had indeed collapsed due to low blood sugar, she would not have been under guard in such a manner, nor would she have been treated in a military hospital where the government could more effectively control access to her.
A few days after her daughter was attacked by the morality police and fell into a coma, Armita's mother, Shahin Ahmadi, was arrested by Islamic Republic security forces. One of the reasons authoritarian and totalitarian regimes engage in multi-generational punishment is to silence grieving and angry relatives who are often seen as sympathetic to the public.
So, Armita's mother, still in shock over her daughter's condition, was arrested for no other reason than having given birth to her daughter 16 years earlier.
Armita's parents were also forced to give an interview on state TV, one of the cruelest actions the Islamic Republic takes against the parents of the children the government assaults and murders.
Islamic Republic intelligence officers also visited Armita's school and threatened students and teachers into silence.
Armita's death comes just over a year after Mahsa Zhina Amini, a 22-year-old Kurdish-Iranian woman, died after being assaulted by the morality police while in their custody. Mahsa's death sparked widespread protests in Iran and across the world, leading Islamic Republic security forces, which are under the command of the Supreme Leader, to violently crack down and murder Iranians in an effort to shut down all dissent.
Another young Iranian is now dead, murdered by the Islamic Republic, an occupying force in Iran that has destroyed our country, our culture, and murdered Iran's best and brightest.
Armita wasn't even given a chance to be a woman; she was just a girl who dared to talk back.
---
Give me just one second before go…If you find my investigative reporting or my writing on more personal matters like living with ADHD invaluable and wish to support it, the best thing you can do is become a paid subscriber. The topics I report on are dangerous and come with significant reporting costs; I can't do it without your help.
Please follow me on Twitter (X), Instagram, Facebook, Threads, and TikTok.
If you have a tip, you can contact me at 310-795-2497 or currentyashar@gmail.com. I am available on Signal, WhatsApp, and Confide. My direct messages are also open on Twitter and Instagram.