Discover more from Yashar Ali | The Reset
Over 52,000 subscribers
It would mean so much to me if you would subscribe to my newsletter by clicking the button above or the button at the end of this post. You can subscribe for free, but I would be grateful if you would subscribe for just $6.99 a month or $49.99 a year…especially if you enjoy my Twitter feed.
If you want to post this edition on social media, please use the button above.
The Swampiest Swamp: The Commission on Presidential Debates Is Out of Touch
The three co-chairs of the Commission on Presidential Debates—the nonprofit, bipartisan organization that sponsors and produces the presidential and vice presidential debates every four years during the general election—are all over the age of 70 (two of them are more than 80 years old), are all white, and all are deeply entrenched in the clubby Washington, D.C., world of former politicians, think tanks and lobbyists. 
Of the remaining 10 members on the commission's board of directors, seven are more than 70 years old, two are in their 60s, and the youngest is 46. One is Black, one is Latina, and one is Asian.
There is little regional diversity among them.  
The people who make critical decisions about the country's presidential debates—events that impact how Americans will vote or if they vote at all—are, for the most part, elites who are part of the D.C.-New York clique known as the swamp. (I've included a list of commission members at the end of this newsletter.) 
Three are former U.S. legislators. There's a federal lobbyist. A former CEO of two major multinational corporations. A managing director of an investment bank. A managing director of a private equity fund. And a former FCC chairman-turned-partner at a major law firm. 
The makeup of this commission should come as no surprise: It's largely how power, especially political power, has always looked. But it's worth discussing, and in the era we're living in, where diversity is more valued, it would be foolish not to put pressure on the commission to change. 
The clubby, swampy commission board has an effect on the quality of the presidential debates. As so many of the members are part of the D.C./New York elite, they're likely to pick moderators who fit a certain mold. And they're unlikely to push for a tougher debate structure. Most of these people are the type who get invited to the White House; do you think they're going to rock the boat? Not a chance. 
Now, candidate involvement in the debates isn't required by law, and candidates can refuse to participate in any debate sponsored and produced by the commission (like Donald Trump threatened today after the commission announced the second debate would be virtual). But don't the American people deserve a commission that pushes for tougher rules and a tougher debate format, one that allows for more revealing responses to critical questions? 
I've been thinking about the lopsided makeup of the commission for the past few weeks, but recent missteps—like the disastrous first presidential debate and last night's vice presidential debate in which moderator Susan Page had little control over the direction of the topics discussed—motivated me to write about it in today's newsletter. 
The commission was founded in 1987 by the Democratic and Republican parties and has sponsored all general election debates held since 1988. The Democratic and Republican campaigns negotiate largely with the commission co-chairs about the debate particulars—everything from the structure (which has largely remained the same) to decorum (for example, this year's agreement to not shake hands because of the COVID-19 pandemic). 
The commission often bills itself as nonpartisan, but in fact it is more apt to describe it  as bipartisan. While there are two registered independents on the commission, one of them, Dorothy Ridings, donates to Democratic candidates, and the other is former ABC News anchor Charles Gibson, who is likely an independent due to the fact that he was a journalist. 
The commission has faced lawsuits in the past from libertarian candidates for not allowing them on the debate stage; currently, candidates must poll at 15% or higher in order to qualify. But just because a candidate can't be on the stage doesn't mean the commission leadership shouldn't be diverse with respect to party affiliation and party engagement. 
Even though the debate moderators chosen by the commission are essentially a fait accompli, the commission knows it can't select commentators or hosts from Fox News or MSNBC; there's no way that Joe Biden would submit to having a debate moderated by Fox News' Sean Hannity, nor would Donald Trump submit to a debate moderated by MSNBC's Chris Hayes. 
I'm not naive. I don't expect the commission to be made up of random people picked off the street. Debates are important moments in a presidential race and for our nation, and it's critical to have commission leaders who are well-versed in political matters. But a bunch of corporate leaders, former federal politicians and think-tank types don't even come close to representing the diversity of American voters. 
Where is the public university president? How about a labor union leader? What about a city council member or a mayor? Or someone from the tech world? What about people who are not college educated? How about someone who works in poverty alleviation or social justice? What about a small-business owner? Or a former member of the U.S. Armed Forces? What about someone who is trained as a physician or nurse? Or someone who has worked as a schoolteacher? What about a university student? 
How about more racial diversity among the board members? What about including members who live in rural areas? 
While it may be more difficult to bring about diversity among our candidates and those in the media, a change in the leadership of the Commission on Presidential Debates can be done rather quickly. 
The diversity in leadership won't guarantee a change in debate questions; the commission has no involvement in that process. But it could change how the debates are structured and presented and which moderators are chosen. And above all else, it's simply the right thing to do. No commission of this import should be so unbalanced in its representation. 
Commission Co-Chairs 
Frank J. Fahrenkopf, 81 years old 
Lobbyist and former chairman of the Republican National Committee
Registered Republican
Dorothy S. Ridings, 81 years old
Former president of the League of Women Voters  
Registered Independent 
Kenneth Wollack, 71 years old 
Former president of the National Democratic Institute 
Registered Democrat 
Commission Board Members 
John C. Danforth, 84 years old 
Former U.S. senator, U.N. ambassador and Missouri attorney general
Registered Republican 
Charles Gibson, 77 years old
Former ABC News anchor 
Registered Independent 
John Griffen, 60 years old 
Managing director of investment bank Allen & Co. LLC 
Registered Democrat 
Yvonne Hao, 46 years old 
Managing director of private equity fund Cove Hill Partners 
Registered Democrat 
Jane Harman, 75 years old 
Former U.S. representative  
Registered Democrat 
Antonia Hernandez, 72 years old 
President and CEO of California Community Foundation 
Registered Democrat 
The Rev. John I. Jenkins, 66 years old 
President of the University of Notre Dame
Newton N. Minow, 94 years old
Former chairman of the Federal Communications Commission
Registered Democrat 
Richard D. Parsons, 72 years old 
Former chairman of Citigroup and former CEO/chairman of TimeWarner
Registered Republican 
Olympia Snowe, 73 years old 
Former U.S. senator
Registered Republican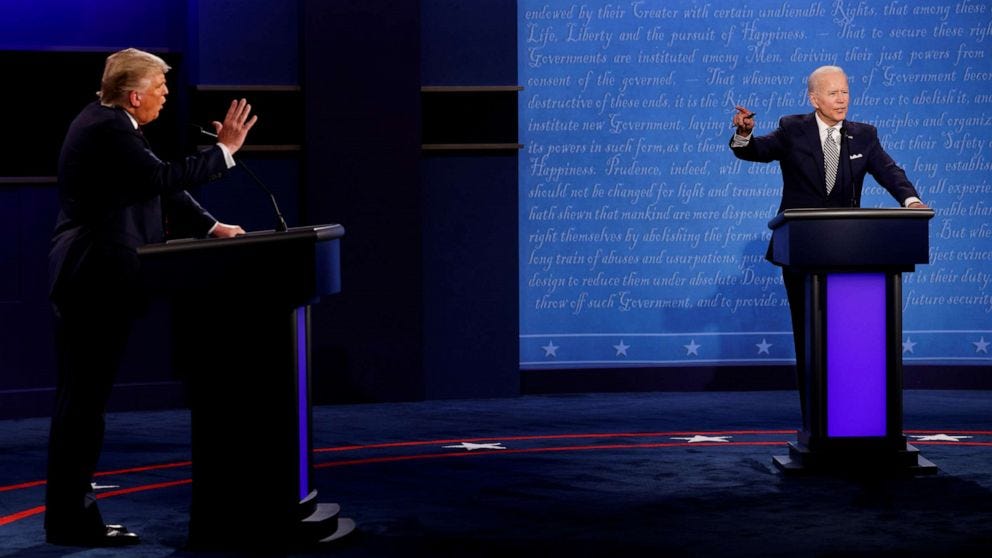 Photo by Brian Snyder/Reuters