Discover more from Yashar Ali | The Reset
Over 52,000 subscribers
Breaking: Danny Masterson's wife Bijou Phillips Has Filed For Divorce
Bijou Phillips has filed for divorce less than two weeks after her husband was sentenced to 30 years to life in prison for raping two women.
Bijou Phillips, the actress and Scientologist, has filed for divorce from her husband, the convicted rapist, Scientologist, and actor Danny Masterson. This news comes less than two weeks after Masterson was sentenced to 30 years to life in California State prison for raping two women.
In a statement, Phillips attorney Peter Lauzon said:
"Ms. Phillips has decided to file for divorce from her husband during this unfortunate time. Her priority remains with her daughter. This period has been unimaginably hard on the marriage and the family. Mr. Masterson was always present for Ms. Phillips during her most difficult times of her life. Ms. Phillips acknowledges that Mr. Masterson is a wonderful father to their daughter."
In a text message, Danny Masterson's attorney told me they do not intend to issue a statement. 
In the petition for dissolution of marriage filed by Phillips, she says the date of separation is "TBD." She cites irreconcilable differences as the reason for divorce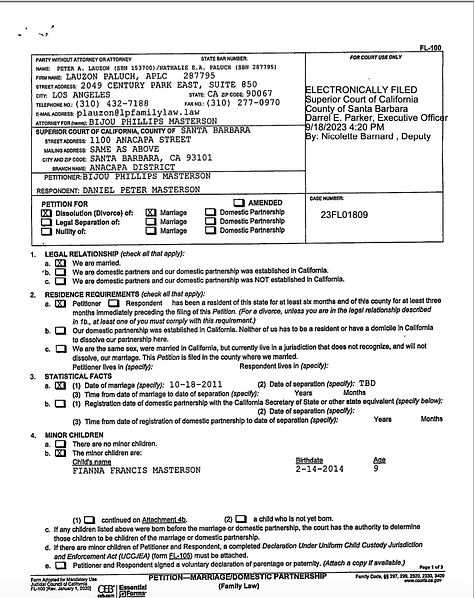 Phillips asks for spousal support and attorney fees, and she wants her legal name restored to Bijou Phillips. 
As expected, given that her husband is set to serve decades in prison, Phillips asks for legal and physical custody of their 9-year-old daughter but states that she will allow her to visit her father in prison. 
TMZ first reported the news of Phillips filing for divorce.
What this move means for Bijou Phillips and Danny Masterson's relationship with Scientology remains to be seen. 
If Phillips intends to remain a Scientologist in good standing, she would have had to receive permission from a Scientology ethics officer to file for divorce. That ethics officer would have been guided directly by Scientology's leader David Miscavige on how to handle the matter.
This post will be updated with new information as it becomes available.
---
Give me just one second before go…If you find my investigative reporting or my writing on more personal matters like living with ADHD invaluable and wish to support it, the best thing you can do is become a paid subscriber. My investigative reporting on Scientology is dangerous and expensive; I can't do it without your help.
Please follow me on Twitter (X), Instagram, Facebook, Threads, and TikTok.