Discover more from Yashar Ali | The Reset
Over 52,000 subscribers
Exclusive: Shelly Miscavige and The Missing Scientologists: How The LAPD Made Scientology's Problem Go Away
Part 1 - Shelly's Fingerprints: Four Days In August
If you want to support this sort of accountability journalism, please subscribe. You can subscribe for free, or you can pay; either way, I'm grateful for your support.
On Thursday, August 8, 2013, just after 5 pm, two Los Angeles Police Department (LAPD) detectives traveled down California Highway 210 toward a coffee shop. They were headed to rendezvous with a woman whose friend, a famous actress, had reported her missing after not hearing from her for over seven years. The woman also hadn't been seen or heard from by people she had known for decades.
The meeting was arranged by an attorney for the missing woman. It was scheduled after a short period of rapid negotiation about where the woman would agree to meet the detectives and what she would agree to do when she met them.
As they pulled up to the coffee shop, the detectives faced a woman who said she was Shelly Miscavige, the wife of Scientology's leader David Miscavige. Jeffrey Riffer, a longtime attorney for Scientology, accompanied the woman.
The detectives checked her ID, took her fingerprints, and returned to LAPD headquarters.
The next day, two LAPD lab technicians determined that the fingerprints taken at the coffee shop could not definitively be matched to the fingerprints the California DMV had on record for Shelly.
---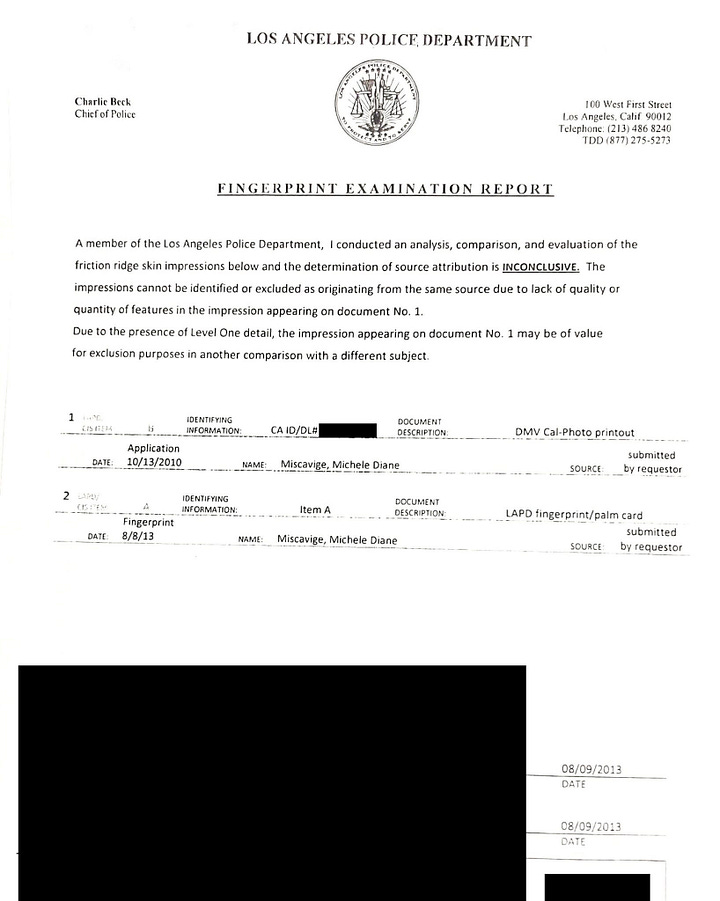 ---
Instead of contacting Shelly's attorney to arrange for another set of prints to be taken, the LAPD removed her from the missing person's database, closed the investigation, and issued a press statement saying that the missing person's report had been "unfounded."
---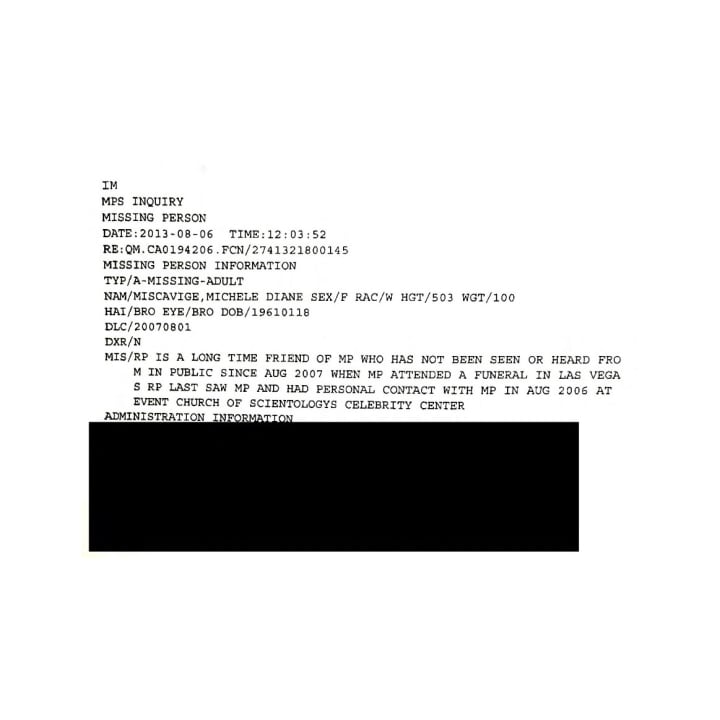 Fingerprint experts who examined the prints told me that the technicians shouldn't have even attempted to match the fingerprints; the prints taken by LAPD detectives weren't of a high enough quality to conduct a match. Without prior knowledge about the subject of my story or her association with Scientology, one of the experts I interviewed asked if the person who provided their fingerprint had been trained to intentionally leave a fingerprint that wouldn't be suitable for a match.
This alarming lapse, which has never been reported before, is just one piece of a larger story that reveals that the LAPD has repeatedly disregarded standard law enforcement procedures to protect Scientology.
But not getting a second set of prints from the woman claiming to be Shelly was just one of the things the LAPD didn't do in this case that, at best, would involve incompetence and negligence, and worst, that certain LAPD employees were engaged in a conspiracy to protect Scientology from law enforcement action.
Days later, for unknown reasons and even though the missing person's investigation into Shelly had been closed out, the detectives contacted the coffee shop to obtain security camera footage from the meeting.
When the coffee shop sent the footage over a week later, the videos for all the cameras were inexplicably scrambled.
As part of reporting this story, I reviewed the footage and confirmed that it was unusable for any investigative purpose.
The meeting at the coffee shop was ignited by a missing person's report filed by one of the most well-known Scientologists at the time, actress Leah Remini, who was best known at that point for co-starring in the CBS sitcom "King of Queens." In the summer of 2013, after years of tortuous abuse at the hands of Scientology and its top officials, Remini and her family left Scientology.
One of the first things Remini did after leaving Scientology, which she was a member of for 35 years (since she was eight years old), was to file a missing person's report on Shelly Miscavige, which she did on August 5, 2013.
For Remini, involving a non-Scientology law enforcement agency in what Scientologists would consider an internal matter, marked an earth-shattering departure. After 35 years of being brainwashed and drilled into the belief that it was a high crime to involve non-Scientology authorities in matters that only involved Scientologists, her public action was a major rebuke to Scientology.
This story is based on reporting gathered over the last six years. I had conversations with 11 sources, including former Scientologists, elected officials, law enforcement contacts, and sources in the entertainment industry. These sources spoke to me only on the condition of anonymity. Their reasons for this condition varied: some were not allowed to talk to the press without prior authorization, others had signed restrictive non-disclosure agreements, or they did not want to become a target of Scientologists in the entertainment business.
However, all of my sources shared something in common; they required anonymity because they were terrified of backlash from Scientology and its proxies, including the private investigation firms it retains globally to track, intimidate, and gather intelligence on those it labels as enemies.
As part of reporting this story, I obtained internal Scientology documents, text messages, emails, and privileged and confidential legal documents.
I obtained copies of Shelly's fingerprints, her DMV photo, and other related documents from sources in the legal and law enforcement world.
The records I obtained gave me a glimpse into Shelly's life since she vanished. For example, in 2010, she got her driver's license renewed at a West Covina, California, DMV field office.
By the time she took the sullen photo -- the first glimpse the public is getting of Shelly since a photograph taken in 2004 -- she had not been seen in public for three years since she attended her father's funeral in 2007 with a Scientology handler watching her every move.
Scientology will deny nearly everything in this report. I have a longstanding policy of not quoting Scientology spokespersons, as they almost always fill their statements with lies. They must lie per Scientology policy; telling the truth, which could harm Scientology, would be considered a high crime.
An email detailing this story's allegations had yet to receive a response from LAPD's public information office when this story was published. Two attempts to connect with Jeffrey Riffer, the attorney for Scientology and the Miscaviges, failed to produce a response.
As a reporter, covering Scientology is a dangerous and expensive process. I cannot conduct this type of reporting without your support. Please help sustain this work by becoming a paid subscriber.
After my story was published, Remini sent me this statement via text-message which she also posted on her various social media accounts, "For ten years, the LAPD and Scientology have tried to paint me as a paranoid conspiracy theorist with a vendetta. This news is a relief, but it also angers me. I am furious with the coverup. I'm angry that Scientology has gotten away with this. This information only makes me want to fight for my friend even more."
Stunning Abandonment of Standard Law Enforcement Procedures
In the missing person's report that Remini filed, she had told detectives that she, along with many other friends and colleagues of Shelly's, were concerned about her safety. She gave detectives the names and contact information of other former Scientologists who could corroborate her concerns.
Part of the report read, "The PR [person reporting] believes, as do other ex-members of the Church, that the MP [missing person] is being secreted against her will and not allowed to communicate with anyone on orders by her husband. Given the PR's intimate knowledge of the Church and their harsh response to any criticism, the PR fears for the MP's safety."
The report also said on two occasions that, Remini observed Shelly get nervous and anxious when her husband was around.
Knowing that information and learning the next day that the print came back inconclusive/unsuitable for a match, it's shocking that the LAPD moved on from the investigation.
But it gets worse.
My sources, along with a review of documents, told me that Shelly was not informed that she was the subject of a missing person's report by the LAPD detectives and that Remini was the one who filed it. There is also no indication that they ascertained why she was missing or what led her to withdraw so severely from life and her friends.
Not presenting Shelly with this critical information goes against every standard practice of law enforcement when a missing adult is found, even if they claim they are voluntarily missing. And not attempting to learn why someone whose friends expressed concern that she was being held against her own will and the subject of abuse also goes against standard law enforcement practices for investigations involving missing and kidnapped persons and possible victims of domestic violence.
The location of Shelly's meeting with the LAPD detectives was also unusual.
The LAPD detectives met with the woman claiming to be Shelly and her attorney Jeffrey Riffer in Covina, an incorporated city with its police department in Los Angeles County. Law enforcement experts who spoke to me, including LAPD sources, said the detectives should have arranged to meet with the woman and her attorney at the Covina Police Department. As a courtesy, Covina PD would have given the LAPD detectives a private room, and cameras would provide security footage if needed. If Shelly was accompanied by Scientology security agents (which would have further intimidated her into silence if she was being held against her own will), the detectives could have required them to wait outside as they met with her and her attorney.
The LAPD, which does not train its officers and detectives on Scientology policies and how to deal with cult-like organizations, treats Scientology as if it operates like any other organized religion.
And based on my reporting, the LAPD takes its treatment of Scientology a step further.
What LAPD did in this instance, or instead what they didn't do, and what they have done in other cases involving Scientology is give Scientology the equivalent of law enforcement courtesy and reciprocity. For example, if the San Francisco Police Department were to send a message to the LAPD about a case, the LAPD's position would be to trust the accuracy of what SFPD communicated unless something disproves what they said. In the case of Scientology, the LAPD has consistently taken Scientology's word for it.
Scientology's use of prominent attorneys allows them to avoid law enforcement accountability, particularly when it involves missing persons investigations and welfare checks.
Usually, it wouldn't be out of the ordinary for a law enforcement agency to assume that a prominent attorney at a major Los Angeles firm would represent their client's best interests and tell the truth.
But attorneys for Scientology operate differently. L. Ron Hubbard wrote policy letters making it clear that instead of seeing attorneys as well-educated, experienced counsel who could guide Scientology, they were tools for Scientology to do its business and that attorneys hired by Scientology should bend to Scientology's objectives.
It's an exchange Scientology attorneys make for incredibly consistent business.
I reviewed one Scientology internal document from the early 2000s that revealed that two longtime Scientology attorneys had billings of over $250k each in 11 months just for one department and organization in Scientology. That doesn't include their work for other Scientology organizations and projects. Scientology has dozens of attorneys on retainer at any given time.
And even though Scientology is no longer litigious in that it initiates litigation, it still needs a lot of legal defense.
I have no evidence that Jeffrey Riffer, the Scientology attorney who negotiated with detectives and then accompanied Shelly to the coffee shop, knowingly lied to the LAPD about Shelly's state of mind and communication with her, and I am not suggesting it. I am suggesting that he was likely lied to by Scientology officials about her desires and that he telegraphed those lies to the LAPD.
Decades of investigations that fell apart due to Scientology's intervention show that the LAPD is not set up to deal with how Scientology operates, impacting how Scientology-related crime is reported and investigated.
Four Days In August
After Remini filed her missing person's report on August 5, 2013, she sat waiting.
The records I reviewed reveal that the case was transferred to the missing persons unit, and detectives set out to contact Shelly via her attorney. But there are a lot of gaps, and we still don't know who else Scientology and its attorneys were in touch within the LAPD. It's also unclear what conditions detectives agreed to before meeting Shelly at the coffee shop.
After the LAPD closed the missing person's case prematurely, they abandoned standard law enforcement procedures again. LAPD detectives did not inform Remini that they believed they had found Shelly. Remini found out through the media when the news first leaked, and then the LAPD released a statement saying: "The investigation has been closed, and we consider the report to be unfounded."
Another statement they released a few days later said, "Our missing person's detectives have met with the alleged missing person within the past two days. We consider this case closed."
News organizations worldwide reported on the LAPD's announcement that Remini's report was "unfounded" and included Scientology's statement uncritically.
"This ill-advised, ludicrous self-promotion and the media inquiries it generated caused an inexcusable distraction for the LAPD. The entire episode was nothing more than a publicity stunt for Ms. Remini."
The coverage focused on the LAPD's statement and Scientology's attack on Remini instead of asking why a woman who was so powerful and surrounded by so many influential people and then suddenly disappeared.
The mixed messages and stonewalling only emboldened Remini to push on the Shelly issue further. She filed a series of public records requests (spending tens of thousands of dollars in attorneys fees) to learn more about Shelly's case but to no avail.
Not satisfied that Shelly was well or even alive, Remini kept pushing.
She repeatedly brought up Shelly in her A&E docuseries and dedicated an entire episode to Shelly's disappearance. She has regularly posted about Shelly's disappearance on social media, pushing the hashtag #whereisshelly.
While there were articles about Shelly's disappearance before Remini left Scientology and filed the missing person's report, she has taken the case to another level. If you look at the replies and comments of Scientology social media posts, you will often see people posting, "Where Is Shelly?"
I have focused on Scientology and its abuses for two decades and have been reporting on it since 2016. It is the most complicated organization I've ever studied, with thousands of policies and directives, its own language (called Scientologese for lack of a better choice), and significant use of acronyms. Scientology and its policies, teachings, practices, and procedures are so nuanced and multi-layered that it frequently fools even the most cynical people.
But the "Where Is Shelly" message has stuck because, unlike Scientology, it's straightforward: a woman who used to be ubiquitous hasn't been seen in public in 17 years, and every time the organization she was the second most powerful official in is asked about her, they go on an aggressive attack.
People understandably wonder why Scientology can't just release a new photo or video of Shelly or have her sit in the front row at one of Scientology's big events to stop speculation about her whereabouts and welfare.
But David Miscavige will never do that, at least not with the current level of pressure on him. According to Mike Rinder, a former top Scientology executive who escaped Scientology in 2007 and has known Shelly since she was 12 when they both worked directly for Hubbard, it would be tantamount to admitting that the evil people (the media and Shelly's friends) were right.
(Over the years, as I have reported on Scientology, I have become good friends with many former Scientologists, including Remini and Rinder)
Putting Shelly on video would also be acknowledging her existence and humanity. To Miscavige, that's untenable as she is a non-person. Shelly, who he is still married to, is someone he doesn't want to think about or know exists, so when he is reminded of her, usually by Remini, he lashes out via his staff and proxies.
The public position of the LAPD, then and now, was that Remini filed a report that Shelly was missing, and after meeting with Shelly they determined that she was not missing. But if a fingerprint was used to confirm her identity, and that result was inconclusive, how could they say she was no longer considered missing?
There is no scenario too improbable when it comes to Scientology. For over 70 years, Scientology has been operating in the most brazen manner and has undertaken thousands of complex intelligence operations to protect itself and its leadership, specifically founder L. Ron Hubbard and the current leader, David Miscavige.
Scientology is responsible for the most extensive infiltration into the US government in history. Its two intelligence agencies, first with the Guardian's office and now with the Office of Special Affairs, have infiltrated dozens of other governments worldwide, law enforcement agencies, including Interpol, and local and state governments. They have broken up marriages, separated families, destroyed careers and businesses, and disappeared people deemed enemies or threats.
There is nothing Scientology and Scientologists won't do to protect Scientology.
Nothing.
Understanding Scientology = Understanding Shelly
So why would Shelly put up with this treatment and why would so many Scientologists be willing to risk arrest to take an active part in repressing her?
The answer to both of these questions lies in understanding what Scientology truly is, and unfortunately, a vast majority of people, including law enforcement, don't understand Scientology in a way that reveals how incredibly evil it is. Even those who have watched documentaries like HBO's "Going Clear," or the A&E docuseries "Leah Remini: Scientology and the Aftermath" co-hosted by Leah Remini and Mike Rinder don't fully understand what Scientology is like and how Scientologists live day-to-day.
It takes years of studying and learning every part of Scientology and how it operates to grasp its true nature.
Scientology is often called a cult, and while it has some cultish aspects, a more accurate way to describe Scientology is that it is a borderless totalitarian state and a cult of personality. For Scientologists, Scientology is like North Korea without state-sanctioned executions. From brainwashing, indoctrination, prison camps, multi-generational punishment, holding people against their will, chasing those who try to escape, and transnational repression of dissenters, it all exists in Scientology.
Like North Korea, Scientology even has what is known as face crimes. David Miscavige has been known to beat Scientology executives whose facial expressions at any given moment displease him. Former Scientologists I have spoken to over the years have told me stories of being scolded and interrogated (at their own expense) when they didn't appear to be sufficiently enthusiastic at Scientology events.
For Scientologists, Scientology is like a separate state with its own laws and justice system.
What people have a hard time understanding is how obsessively dedicated Scientologists are. No one, outside of a jihadist terrorist, is more committed to a cause than a Scientologist is committed to Scientology. Scientologists will give up everything for Scientology, including their kids. They will commit crimes for Scientology; they will abuse people for Scientology.
And the reason is simple: Scientologists, who believe we live innumerable lives, think they are on a mission to save humanity.
As part of becoming a Sea Org member (Scientology's paramilitary workforce), Scientologists sign a 1-billion-year contract. These contracts are often made fun of. It's ridiculous; I get it. But in reality, it's a terrifying indicator of commitment. What would you do for a cause that meant so much to you that you were willing to give it total control over not just this lifetime but many lifetimes over one billion years?
Scientology and Scientologists are governed by thousands of policies and directives written by founder L. Ron Hubbard. Because Scientologists believe that Hubbard is the sole source for Scientology technology and policies which, when applied perfectly, will solve every problem, these policies can never be altered and must be interpreted literally. For Scientologists, Hubbard's policies are law. Scientologists consider Scientology law to be entirely above what they call "WOG law." The term WOG is a slur that Scientologists use to refer to non-Scientologists.
Are you shocked but not surprised by this story so far? Help me do more of this reporting by subscribing. It takes just a few seconds. You can pay if you want, but if you can't, don't let that stop you from subscribing for free.
The Thread
On November 10, 2022, Remini tweeted a long thread on Twitter about Shelly Miscavige and the former Captain of the LAPD Hollywood Station, Cory Palka. 
That thread would lead to an unusual statement from the LAPD and an internal affairs investigation being opened into the Shelly Miscavige missing person's case. 
What led Remini to tweet the thread was the news that Palka was under investigation for leaking confidential law enforcement data to former CBS CEO Les Moonves. (In 2018, after allegations of sexual assault and harassment were leveled against Moonves by over a dozen women, Moonves, who denied that he had behaved improperly or broken the law, resigned.)
Remini had an encounter with Palka that left a bad taste in her mouth and made her concerned about the integrity of the missing person's investigation into Shelly and Scientology's influence over the LAPD.
Palka already had a reputation for cozying up to power; an LA Times report revealed that when Palka took over as Captain of the Hollywood Station, he quickly worked to ingratiate himself with Scientology.
After Remini's thread about Palka and Shelly went viral, the LAPD took the unusual step of issuing an on-record statement directly addressing Remini. 
"The Los Angeles Police Department is aware of public assertions recently made by Leah Remini regarding a missing person investigation involving Shelly Miscavige. In 2014, Los Angeles Police Department detectives assigned to the Missing Persons Unit (MPU) went to Shelly Miscavige's location and personally made contact with her and her attorney. Detectives found her to be alive and safe, and subsequently closed the missing persons investigation. The Missing Persons Unit handles adult missing cases throughout the City of Los Angeles and work out of LAPD's Detective Bureau. This case was not investigated by Hollywood Division personnel and had no involvement by retired LAPD Commander Corey Palka."
But detectives did not meet Shelly in 2014; they met with her in 2013. And calling a coffee shop her "location," while technically accurate, is a bit of a stretch. 
And Remini never said that Palka was directly involved in the investigation, merely that she was concerned that he was using his influence and access to confidential info to aid Scientology. 
The Wedding That Changed Everything
By 2006, after 28 years of dedication to Scientology, Remini found herself in the upper part of the most elite Scientologists. She had risen to this spot not just because of her celebrity and the fact that she was starring in a successful network sitcom but also because she had donated millions of dollars to Scientology.
This elite status comes with all sorts of perks and honors for any Scientologist who attains it.
In 2006, Remini achieved what any Scientologist would feel was an extraordinary honor: she and her husband, Angelo Pagan, were invited to attend the wedding of Tom Cruise and Katie Holmes in Italy.
Remini was already in his inner circle when she was invited to Cruise's wedding. In Scientology, if you want to be in a Scientology celebrity's inner circle, the President's office of the Celebrity Centre has to approve it.
And if you want to be in Tom Cruise's inner circle? David Miscavige has to approve it personally. Tom Cruise holds a unique position in Scientology for someone who is a civilian Scientologist. Scientologists are not allowed to be critical of him; those who criticize him in any way face harsh interrogations (at their own expense).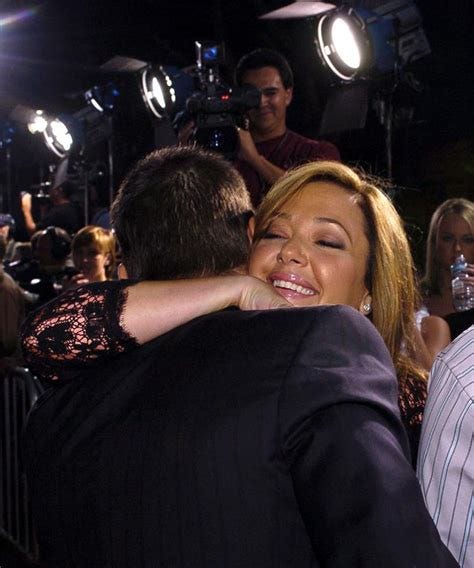 To illustrate what a big deal it was for Remini and Pagan to be invited to the Cruise/Holmes wedding, even longtime Scientology celebrities like John Travolta and Kirstie Alley hadn't been invited. On the first night of the wedding weekend, Remini's elite position within Scientology came crashing down when she asked an innocuous question: "Where is Shelly?"
The Cruise/Holmes wedding was billed within Scientology as the wedding of the century; it was unfathomable that one of the most powerful people in Scientology, who was married to the leader, wouldn't be there.
Remini asked the question about Shelly earnestly; she was wondering where her friend was; she hadn't seen her in a while but not long enough yet that she was alarmed.
Tommy Davis, Cruise's Scientology handler and a Sea Org member, snapped at Remini and said, "You don't have the fucking rank to ask where Shelly is."
While such a statement may sound harsh and ridiculous to anyone else, Davis was right; Remini didn't have the rank to ask where Miscavige was. Shelly was a Sea Org member and a high-ranking executive in the Religious Technology Center. In Scientology, with the exception of Tom Cruise, civilian Scientologists are outranked by Sea Org members. Sea Org members not only control Scientology as an organization, but they also control the lives of civilian Scientologists.
But Remini, a fiercely dedicated, model Scientologist, had managed to retain a sliver of independence and was incredulous and shocked that she couldn't simply ask about where her friend was.
Remini also witnessed several things at the Cruise/Holmes wedding that shocked her. For example, she saw Miscavige's longtime communicator (an assistant who always accompanied him, previously she and Shelly were the two women constantly with him), Laurisse "Lou" Henley-Smith tap Miscavige's butt, which, since Miscavige was still married to Shelly, would have been something that would have gotten most any other Scientologist written up.
Remini managed to have a duality many Scientologists have; she was generally tough and cynical with a take-no-prisoners attitude, but she also maintained a hopeful naivety about Scientology.
That hopeful naivety led her to take a step that would soon lead her down a path to the worst nightmare of her life.
Like all totalitarian and authoritarian states, Scientology has a mandatory snitch culture. Scientologists spend a great deal of time filing reports about one another, which are routed up to Scientology's ethics department.
One of these reports is called a "knowledge report" or a "KR."
Remini called her assistant from Rome and dictated several knowledge reports on everyone from Tom Cruise to David Miscavige.
Remini earnestly believed she was helping the organization she saw as her religion, which she truly felt was saving humanity. By filing the reports, Remini was following L. Ron Hubbard's policies as they were written, which is the way every Scientologist is required to follow them.
Every Scientologist except for David Miscavige and Tom Cruise.
Remini's naivety and earnestness turned out to be a critical error that would end up causing her significant psychological and financial devastation.
After the wedding, Remini was ordered by her Scientology handler Shane Woodruff to go to Clearwater, Florida, the spiritual headquarters of Scientology known as "FLAG."
There, Remini was subjected to months of Scientology interrogations called sec-checks or security checks. She was repeatedly asked if she had evil intentions towards Tom Cruise and David Miscavige while holding the cans of the e-meter, a Scientology lie detector.
Remini was also put through a Scientology process called "The Truth Rundown." Usually only reserved for Sea Org members, the process is meant to rewrite a person's memories.
There is no equivalent in any other organization that calls itself a religion of The Truth Rundown. The only thing it can be compared to is the tactics used by North Korea and China to re-educate disaffected citizens.
After weeks of 12-hour days where she was being interrogated, Remini started to disassociate to a frightening degree. She felt she was on the verge of having a psychotic break. She finally gave in and withdrew her knowledge reports to save herself.
The Truth Rundown worked.
Remini then started to make amends; she apologized for things she never did and bought expensive gifts for everyone from Cruise and Holmes to others she was told were upset by what they claimed was her disruptive behavior at the wedding.
Scientology billed Remini hundreds of thousands of dollars for months of interrogations and psychological torture.
But Remini remained stubborn about trying to find out what happened to Shelly. From 2006-2013, she repeatedly found ways to ask about her whereabouts.
She kept sending notes to Shelly even though she never heard back. She asked David Miscavige in private meetings about Shelly. He said he had to keep her away to protect her from suppressive persons (a Scientology term for people who are enemies) trying to take Scientology down. She would bring up her disappearance with fellow civilian Scientologists (they would write knowledge reports on her for doing this) and ask Scientology officials about Shelly.
Remini's questions about Shelly, and the lack of response and defensiveness from her fellow Scientologists, also led her to dig into other allegations against Scientology. Why was she hearing stories about Scientologists going bankrupt because Scientology pressured them to fork over every cent they had? Why was she hearing about Miscavige beating top Scientology executives? Why were so many of the top Scientology executives who spoke at major events she attended for decades declared suppressive persons or vanished just as Shelly had?
Scientologists are ordered never to read negative information about Scientology, and they aren't allowed to speak to former Scientologists who have been declared Suppressive persons (they must disconnect from them, or they will be declared suppressive as well).
But Remini did all that anyway; she started googling about Scientology and talking to former Scientology executives like Mike Rinder, who had escaped Scientology in 2007.
Everything started coming to a head in 2012 and 2013 as Scientology officials began to see Remini as a significant problem. They started to isolate her friends from her and tried to do the same thing with her family.
On July 5, 2013, journalist
reported that sources had told him Remini had left Scientology. Exactly one month later, she filed her missing persons report on Shelly.
The Responsibility of Leaders
Michele "Shelly" Diane Miscavige (née Barnett) was born in January 1961.
She became a Scientologist at age four when her parents joined. When she was 12, her parents signed over parental rights to L. Ron Hubbard, and Shelly joined the Commodore's Messenger Organization (CMO).
Shelly, a 12-year-old girl, joined a group of other kids, most of whom were minors, in serving L. Ron Hubbard on the Scientology ship "The Apollo," which was sailing all over the world so that Hubbard could avoid government authorities and process servers by remaining in international waters as much as possible.
L. Ron Hubbard was Shelly's father, and his wife Mary Sue was now their mother.
In that age of Scientology, messengers had enormous power and influence even though they were all so young because they had direct access to Hubbard, who was already seen as an infallible god-like figure by Scientologists even though the organization was still in its infancy.
Shelly's closeness to Hubbard was an asset of Shelly's for most of her life, but later it would prove to be her undoing.
In 1982, Shelly married David Miscavige, who was incredibly ambitious and had already made a name for himself by age 22. In 1986, after Hubbard died as a recluse, Miscavige, just 26, began a two-year process that led to his ruthless and violent takeover of Scientology. On at least one occasion, Miscavige was aided by off-duty LAPD officers in his hostile takeover.
Miscavige named himself "Chairman of the Board of the Religious Technology Center." The Religious Technology Center is the organization that controls Scientology and all of Scientology's various organizations and front groups.
Scientologists refer to Miscavige as COB, and he named Shelly COB Assistant (in this context, think of her as chief of staff).
For nearly 20 years, Shelly served her husband and Scientology dutifully. But everything began to unravel in the early 2000s.
After Miscavige survived a series of significant events, investigations, and controversies that could have taken him down, he shifted from someone who would regularly display flashes of anger to someone who lived in a constant state of volcanic fury which was mixed with the use of physical violence against Scientology's top executives.
In the early 2000s, Shelly quietly began questioning her husband's sanity in conversations with Scientology executives on the base where she lived and worked with Miscavige.
In 2006, after she made the fatal error of reorganizing an organizational board of key staff without permission while Miscavige was out of town, Shelly knew her time had come: she was persona non grata.
Scientologists are ruthless in how they go about their everyday lives; they're taught emotions like empathy and sympathy is bad. By all accounts, Shelly was incredibly tough and could be harsh, extremely demanding, and had a temper of her own. But she was also noted for her touches of genuine generosity and her attempts to calm her husband's worst instincts.
But after she fell out of favor, Shelly began to face sec-checks (interrogations) and became a shell of her former self. Gone was the hard-charging boss; she was now living in constant fear. At one point, Shelly meekly asked Mike Rinder if he noticed if her husband was wearing his wedding band. That display of vulnerability would have been unthinkable before.
Then, she vanished. Shelly was seen being escorted into a car in tears in 2006. From then on, except for an appearance at her father's funeral in August 2007, she has never been seen again.
Over a dozen former Scientology officials have said that they believe Shelly is living, and possibly working, at The Church of Spiritual Technology (CST) base, located in Twin Peaks, California, in San Bernardino County, California.
The CST is the Scientology organization charged with preserving Hubbard's writings.
In 2021, I noticed via a records search that Shelly received mail at a PO Box in Blue Jay, California, just two miles from the Twin Peaks compound. Other Scientologists who worked for the CST were also receiving mail there.
Gary "Jackson" Morehead, the former security chief of the secretive Scientology base in Riverside County, California, known as "Gold," said that he believes Shelly is likely being handled in a way that doesn't make her feel too restricted but also doesn't give her any real freedom.
Morehead told Claire Headley, a former top Scientology official who reported directly to Shelly Miscavige and David Miscavige for years, on her podcast series, that his assessment of how Shelly was being treated was based on how other women with highly sensitive information that could damage Scientology (like Hubbard's wife Mary Sue) were treated when it was decided that they would be disappeared.
Shelly may not feel totally restricted on the CST base, but by no stretch of the imagination does she have any true freedom of movement, association, or expression.
A team of Scientology security agents surrounds Shelly 24/7, and her life is managed and controlled by three Sea Org members who all report directly to Miscavige and send written reports to him regularly about Shelly's mood, activities, and what she says to them.
For the three women he chose to monitor and control his wife, Miscavige picked three of the most notorious and ruthless Sea Org members: Antonella Tisi, who had been Shelly's Scientology auditor, Anne Joasem (formerly Rathbun), and Elsie Benhraiem (formerly Tucker).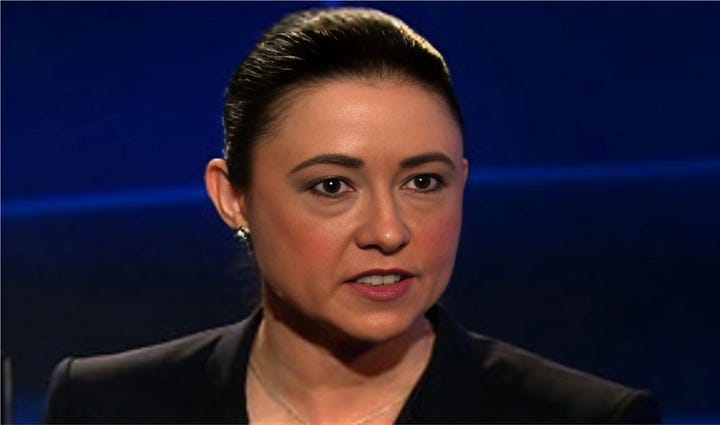 Over the years, I have heard horrifying stories about these three women from sources; the incidents range from cruel to criminal.
Once, a senior Scientology CS (case supervisor who oversees auditing) in Los Angeles had mislabeled someone's auditing session records.
As a punishment, Joasem forced the elderly woman outside and hosed her down with cold water in front of other Sea Org members. The woman, who had MS, was frightened and humiliated.
A former senior Scientology auditor told me that Benhraiem threatened to kill a 15-year-old victim of statutory rape if she reported the rape to the LAPD. The 15-year-old believed, as did others, that Benhraiem was serious about her threat, and as a result, she was too terrified to file a report with the LAPD.
Tisi once kept Jenna Miscavige Hill, the niece of David Miscavige, who would later write the bombshell memoir about her life in Scientology, locked in a room for hours, against her will, to Sec Check her.
Claire Headley told me that after she had been forced to have one abortion by Scientology officials (Sea Org members are no longer allowed to have children), Tisi Sec Checked her when she got pregnant for the second time and that Tisi, along with another Scientology official, pressured her into having a second abortion.
Over the years, people have wondered how Shelly would respond if the FBI showed up at the CST base and told Shelly that she was free to leave and that they would protect her as she exited. Most people assume that she would jump at the chance and leave under the protection of the FBI.
But based on conversations I've had with former top Scientology executives who knew Shelly well, she likely wouldn't leave that easily. She might insist that she was perfectly happy at the CST base.
Why? The answer, as always, lies in Scientology policy.
First, Scientologists are brainwashed into believing that law enforcement is one of their greatest enemies. Scientologists, especially Sea Org members, are drilled repeatedly on how to lie to law enforcement to protect Scientology.
Shelly probably wouldn't feel safe with law enforcement. But the reality is, as Mike Rinder has explained before, Shelly likely believes that she has done horrible things and deserves to be where she's at. She also likely believes that she must stay at CST to protect L. Ron Hubbard's writings and that she is waiting for Hubbard to return and take over Scientology from her husband, David.
"She Could Take The Whole Thing Down"
No one disappears someone in the way Miscavige has disappeared Shelly unless they pose a clear threat to their position.
Shelly poses a fatal threat not only to Miscavige as Scientology's leader but to Miscavige personally and to Scientology as an organization.
Shelly is a threat for two reasons.
First, from 1986 to 2005, Shelly witnessed everything David Miscavige did.
It was so jarring for Scientologists like Remini not to see Shelly standing alongside Miscavige because she was always by his side. For twenty years, Shelly and Miscavige's communicator Laurisse "Lou" Henley Smith, would shadow Miscavige in every interaction and meeting, and both were always next to him in his office.
Both Shelly and Henley Smith would have tape recorders turned on at all times to record every word Miscavige said. Those tapes were then transcribed by a team of typists and turned into orders that Miscavige's compliance chief would then disseminate to Scientology officials.
Shelly witnessed everything from Miscavige overseeing complex operations to intimidate whistleblowers and witnesses. She facilitated Miscavige's access to the confessions of crime by Scientologists during their auditing sessions. Shelly was copied on every single internal report that went to Miscavige, many of which were filled with details of criminal and unethical activity.
She also witnessed Miscavige physically assaulting Scientology executives regularly. Shelly was privy to his involvement in various matters ranging from the lengths he went to obtain tax exemption for Scientology from the IRS to the circumstances surrounding the death of Lisa McPherson, a Scientologist who passed away while under the care of Scientology in Clearwater, Florida. The McPherson case almost led to criminal charges against Miscavige.
These examples are merely the tip of the iceberg regarding what Shelly witnessed during her time at her husband's side.
The second reason Shelly is a threat to Miscavige is her relationship with L. Ron Hubbard. Because she worked directly for Hubbard as a messenger, Shelly has a lot of moral authority with Scientologists who are in awe of anyone that was that close to the man who guides every single part of their life. Mike Rinder and Tom DeVocht (a former top Scientology executive who worked closely with the Miscaviges) said that if anyone could incite a mutiny against Miscavige, it would be Shelly.
Seventeen years after she was disappeared by her husband, Shelly still holds the unique power that only Tom Cruise has.
If she were willing to share what she knows, she could end Scientology as we know it. And that's precisely why she's been stripped of all her freedoms.
A Missed Opportunity
Janis Gillham Grady, one of the original Hubbard Commodore Messengers on the Apollo ship, has known Shelly since she was 12.
Grady draws a parallel between peeling layers from an onion and the little moments that lead Scientologists, who eventually leave, to recognize Scientology as a fraud.
What if the LAPD detectives had followed standard law enforcement procedures and informed Shelly that a missing persons report had been filed on her? What if after they informed Shelly that her old friend Leah Remini was the one who filed the report? What if they had pushed her to learn why she didn't appear in public anymore? What if they asked her why she had cut off every friend she had known for decades?
The so-called onion peeling could have begun when she returned home after meeting with the detectives. Knowing that someone like Leah cared about her and was trying to fight for her could have sparked a realization that could have made her wonder if everything she had been told was a lie. Perhaps her handlers told her that people like Leah were disgusted with her and didn't want to know her. At that point, and still today, there's a strong possibility that Shelly had no idea that Leah had left Scientology, who the president was, and that millions of people were tweeting and posting about her plight.
The LAPD's refusal to follow standard law enforcement procedures may have robbed Shelly of ten years of freedom.
"You probably won't have another chance to get out."
Ten years after Remini filed the missing person's report, the memory of Shelly Miscavige is growing distant, the friends she grew up with in Scientology are in their late 60s, 70s, and 80s, and some have died since she disappeared.
And the idea that Shelly could be free to live as she pleases seems ever more improbable.
It's a reality that Remini was well aware of when she wrote that letter to Shelly just weeks after Remini herself officially left Scientology. The same note she had hoped would be given to Shelly by the LAPD detectives.
Remini ended the letter with a warning, "If you don't do it now, you probably won't have another chance to get out."
Remini was focused on Scientology as the obstacle to Shelly's freedom; at the time, she was idealizing the LAPD as the organization that could rescue her friend.
She had no idea that the law enforcement agency she had hoped would liberate Shelly was helping to achieve David Miscavige's goal of turning Shelly into a non-person.
The LAPD didn't even think Shelly was worth an extra set of fingerprints.
---
If you have a tip about Scientology, David Miscavige, or any other person or topic, you can contact me at 310-795-2497 or yasharmail@proton.me. I am available on Signal, WhatsApp, and Confide. My direct messages are also open on Twitter and Instagram.
Your anonymity will always be protected.
Please follow me on Twitter, Instagram, Facebook, BlueSky, and TikTok.